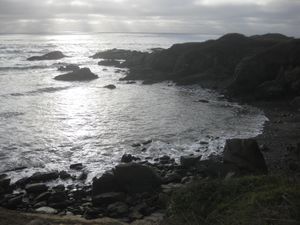 T E H M O D H J I N
Tehmodhjin is a "globally conscious black metal" music project, founded and created by Seth Bodhan back in the summer of 2006, when Seth was also the vocalist for the death metal band Enemy Rising. An influx of influences and a desire to create drove Seth to start his solo project as a means to further explore the wide world of the musical universe. Originally called Aphotic Mortification, the music that Seth made was dark, raw and seasoned with various references and invocations to the lands and gods of the Eastern Hemisphere, mainly Asia. The first album, Daruma, concerning religious and spiritual practices of both the ancient and modern world, was released in May 2009 and served as a sampler to the types of worlds and sounds that Tehmodhjin would eventually make and explore.
Aphotic Mortification was changed to Tehmodhjin in 2011, when Seth was studying history at UC Santa Cruz, and during that time period the second Tehmodhjin album, Kali Yuga: The Wrath of a Thousand Demons was recorded and released in October 2011. This album was a lot more varied and darker than its predecessor, mainly owing to the concept of the album which is based on the Hindu belief that the whole lifespan of the earth and its inhabitants can be divided into four main cycles. Acoording to Hindu scripture and beliefs, we now reside in Kali Yuga, the age when humanity begins to erode and fade from its storied and glorified past, sinking deeper into an abyss that will only end when the period of Kali Yuga is done. The album Kali Yuga: The Wrath of a Thousand Demons, released in October 2011, reflects these ideals and interpretations. 
After graduating from UCSC with a B.A. degree in the History of Asia and the Middle East, Seth returned to his hometown at the end of 2011, and immediately began demoing and creating tracks for what would be the 3rd Tehmodhjin album, Ichion Jobutsu. This album channeled two main thoughts that Seth had picked up during his college years. The first was a grand culmination of the various resources and influences he had read, studied, and listened to in school, along with making music with a wide range of musicians and artists in Santa Cruz, further exposing Seth to the wider world of music and artistry. The second idea was the idea of improvisation, which is readily apparent throughout both classical and folk music traditions throughout the Eurasian continent, a technique that is still used today in this huge landmass by many people and cultures. The album Ichion Jobutsu, released in  April 2014, was thus crafted by these ways of thought, and the result was a very personal album in which nearly every piece was improvised or "jammed" on the spot. 
For Tehmodhjin's 4th album, Cultus Lupus, which was released in November 2016, Seth went back to a vague idea he had hatched back in 2010, which was to write an entire album based on History, thus combining both his love for music and his history credentials. An album was then created that focused on warfare, where every musical piece focused on a certain time period or historical figure. The common thread for each of these compositions was the horror of war and how conflict has shaped human history, and subsequently, each track on the album is an embodiment of that common thread as well as an invocation of each culture or time period, respectfully. Cultus Lupus, released in November 2016, is also an intense album, indeed reflecting what it must have felt like to be engaged in conflict at certain points in time throughout history. 
Currently, as of December 2020, Tehmodhjin's 5th full length, Dunya is being recorded and engineered by Joe Ravnik and will be released sometime in 2021. Tehmodhjin is also currently working on other projects, and breaking barriers by expanding into other artistic mediums besides just music...stay tuned!!